What is Smart Growth?
Ottawa's population will grow by 400,000 people over the next 25 years, including the largest annual increase of Millennials in the country. The City of Ottawa's new Official Plan will consider options for where and how to accommodate that growth. The Greater Ottawa Home Builders Association believes expanding the Urban Boundary has an important role to play in the smart, sustainable growth of our city. Here's why:
The current Urban Boundary is just 13.1%
of the land in the City of Ottawa.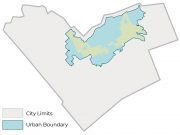 Ottawa's population will grow by 400,000
people over the next 25 years.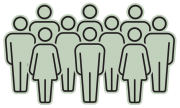 They can't all afford to live downtown.
And they don't all want to.
Supports Housing Affordability and Choice
The cost of land for housing within the city has tripled over the last 5 years – since the City of Ottawa froze the Urban Boundary. House prices have risen by 30-50% in that same time frame. Holding the boundary again will compound that price spike. Where are Ottawa's 400,000 new residents going to live? Not everyone can afford to live downtown – and not everyone wants to. Building new communities on a sustainable land supply supports affordability and choice.
Planned Growth Is Not Sprawl
Urban sprawl is the result of people driving out to places like Carleton Place, Kemptville, Rockland and even further in order to afford a home – then driving into the city every day. They clog up our roads, use our infrastructure, and don't pay any taxes. We need well planned growth inside our city, centred on transit, jobs, community centres and schools, contributing their fair share to infrastructure and taxes – this is not sprawl. It is planned growth.
Urban sprawl is when people buy homes in
Kemptville, Carleton Place and Rockland…

…then drive into Ottawa every day.
Building new communities
close to existing City services and
infrastructure makes sense.

It supports housing affordability and choice.
Supports Sustainable Development
Kanata, Stittsville, Barrhaven, Riverside South and Orleans already have City services and infrastructure in place–and have population densities on par with, and in some cases more than, areas in the urban core. Growth that puts people and families close to transit, schools, work, recreation, shopping, and other services is smart growth. Not to mention that new homes are 50% more energy efficient that homes built before 1990.
Click where you live in Ottawa to send a note to your City Councillor and committee to say that smart growth must include housing affordability & choice.